I could witness two wedding ceremonies within the last two weeks. Interestingly, one was of an educated young man from a rich and affluent family and the other was of a poor and destitute Dalit girl, respectively.
The wedding of the young man was colorful and extravagant, with highly rich and lavish arrangements and attractive by extensive family members and friends. Large amount of tasty dishes and desserts were served more than enough and left upon the table partially eaten, which eventually reflects the real picture of our excessive spending.
It was after three days on Feb. 11, I attended the wedding of Smitha, an orphan girl. She was the member of a destitute family, who was earlier an inmate of SEEDS India. She learned the Basic Computing and stitching here at SEEDS India. I know this girl for the last ten years and she has become orphan at the very early age. She lost her father when she was just three months old and lost her mother at the age of 3 years old. She is the youngest among the three sisters and began to serve as a maid in the houses of her near and dear ones along with the skill training she got from SEEDs India. It was at this point of time her elder sister brought forward a marriage proposal. Then I decided to empathize with Smitha, who has nothing left even to print wedding invitation. Three other generous minds also joined hands with me in this noble gesture. Her marriage ceremony was held in a Temple at Mothiravayal, Ranni, Pathanamthitta District, Kerala without any luxury and excessive spending in the presence of some good men and women. No traditional music (Nadaswaram) was played to grace her wedding; however women in mild sound played music and blessed her wedding. Though no close relatives were there to bless Smitha; a Christian priest and Ms. Aya Hiruma, a well-wisher of SEEDS India joined her wedding and blessed her.
Not even a single kernel of meals was fallen down and became waste there. Wedding feasts are actually the materialization of a proverb which rightly says the "Every grain of rice has the name on it, of the person who is going to eat it". One kilo rice production needs 5000 litres of water. If I am taking food more than required and making waste, I'm stealing the life of others and ignoring the nature and fellow beings. Sometimes our luxury might become a burden for many in the society. Though if somebody has enough wealth and background, but purposefully decreases the luxury and makes many such Smitha's letting married, then the heaven will be happier and their children will be blessed.
I wish and pray for a blessed life to Smitha who has already passed through more than enough miserable ways during her 25 years of life. Please join with us to make many more Simthas in our society as "Sumangalis".
---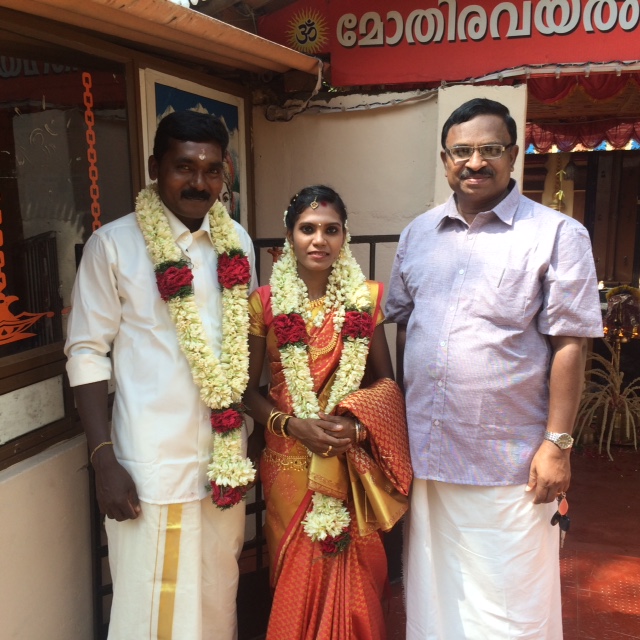 Dr. Thomas Mathew with Smitha during her wedding
View more photos here